Events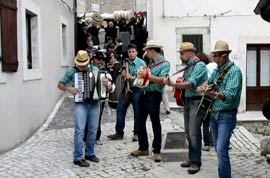 We have always been at your side in any occasion that were special to you but now: it is official! We are finally specialized in the art of reception and you can choos the Hotel Degli Olmi for any kind of events you want to celebrate!
Our Hotel can indeed host Baptisms, Holy Communions, Confirmations, birthday parties, anniversaries, degree parties but also weddings, thanks to its room that can host up to 280 persons.
Our pride? The cooking that is able to delight every Guests by offering them such a good cooking made only with the best ingredients, above all the local ones, so one can experience at its best Civitella Alfedena.
We have an amazing, charming, indoor room, with a ceiling with wood beams with a waved shape, that makes the ambiance even more warm and smooth at the same time. We make unique every event by setting the most suitable decoration, surprising all the Guests with unexpected color choices that enhanced even more the ambiance.
It is also possible to have a buffet at the pool side, where one can also enjoy the panorama and the surrounding mountains.
For any special event, choose the Hotel Degli Olmi, its elegant rooms and the professionalism and experience of our staff: it will be the most suitable choice to make unforgettable a special occasion!